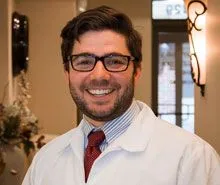 ABOUT VINCENT C. COLLETTI, D.D.S.
Dr. Vincent Colletti graduated Creighton Dental School in 2014. He was awarded multiple honors including Deans list, American Student Dental Association Leadership Award, and The International Academy of Implantology Excellence Award. He currently is a member of the American Dental Association, Illinois Dental Association, Chicago Dental Society, and the Academy of General Dentistry.
Dr. Vince Colletti knew from an early age he wanted to be a dentist. Watching his dad practice, he knew helping people through dentistry was the right setting for him. Dr. Vince started on his path to becoming a dentist close to home. He attended Montini Catholic High School where he excelled in football, wrestling, and track. He continued his wrestling career during his undergraduate years at Northwestern University. Among his many accomplishments and accolades in college, Dr. Vince is especially proud to be recognized as a 2X Academic All-Big Ten athlete.
Following Northwestern, Dr. Vince continued his journey to becoming a dentist at Creighton School of Dentistry in Omaha Nebraska. In Omaha, Dr. Vince and his friends enjoyed hunting, fishing, and trips down the slopes in Colorado. He continues to have a close relationship with his friends and professors from Creighton.
Upon graduation in 2014, Dr. Vince joined the practice to begin working with Dad (Dr. Colletti). His clinical skill is evidence to the hard work and preparation he has put forward. The two are an unmatched team in their ability to work together.
Dr. Vince is involved in continuing education year round. As members of the International Academy of Orthodontics and the Academy of General Dentistry, Dr. Vince brings new technologies, materials, and techniques to the practice. We are lucky to have him here and look forward to many years to come.