We know that it is hard to find a new dentist. Happy and satisfied patients are always our top priority, that is why we ask our patients to write us a testimonial on their experience. It is one of the best ways we can show you what it is like to be a patient of Dr. Colletti D.D.S in Lombard Illinois.
What our Patients Say about Us: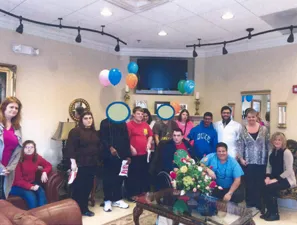 ---
Dr. Colletti & Staff thank you so much for the tour and demonstration on Friday. We know that good oral hygiene is very important to our health. We also wanted to thank you for the toothbrushes!
- Hinsdale 86 Transition Students and Staff
---
I was a patient for several years. I moved and did not see Dr Colletti for any of my dental work. Big mistake not making the trip out to Lombard from the city to see him because no other dentist was ever able to resolve my issues as quick, easy and effectively as Dr. Colletti. I mean ever! I always had to return to the dentist several times with no relief. Dr. Colletti is always right on target ! he knows exactly what is wrong and can fix it quickly without tons of visits. Once he has worked on something for me I have never had to return for the same issue. I will never see another dentist again.
- June S.
---
All staff and dentist very professional, friendly and kind. Great experience. Would recommend this dentist to anyone needing from a cleaning to a rootcanal. Great work and amazing hours and pricing.
- Vanessa A.
---
I want to express my deepest gratitude for something you did for our friend (like a son to us), Abraham from Libera. He is a refugee that has struggled so much and has not witnessed much kindness and grace since arriving in America. He has lived through two civil wars and has endured much pain.

One morning I was praying for him and the pain he was experienceing with a cracked tooth and I felt the Lord speak to me and say "Have Rich (my husband) bring him to see Dr. Colletti." We had no idea what would come of that and were not prepared financially to take on a huge debt as we have 8 other children, but what you did that day, brings tears to my eyes, even as I type. You extended the grace of God that is hard to see today in a hardend world. You allowed this young man to see the hands and heart of God by mercifully taking care of his needs that day without expectation of pay. I cannot thank you enough. Those emotional deposits made in Abrahams's life will multiply and one day we will see the fruits of the seeds that were once planted.

I have appreciated you for many year, (close to 20) as you have taken care of my other son too, duing a very trying time on our lives. You are an artist at your craft and we sing your praises to everyone we meet in hopes that they are led to your office.

Blessings and abundance to you in every area of your life, in special ways, according to your every need. "Truly I tell you, whatever you did for one of the least of these brothers and sisters of mine, you did for me." - Matthew 25:40
- Rich and Val F.
---
Dr. Vince Colletti told me that a temporary bridge would be the best solution for all my many missing upper teeth and I agreed. When the actual bridge arrived, Dr. Vince, who always made me smile and feel at ease and answered my many questions, asked me how tight or loose it felt in different areas and he adjusted it to make me comfortable. Two days later I was checked for irritation. Dr. Vince and Dr. Mike Colletti conferred together and everything that had been irritating me was smoothed. Now when I eat steak and corn on the cob, the force of the chewing is evenly distributed between my real teeth and my new bridge. I have also been told I have a much nicer smile with all my top teeth. Thanks Drs. Colletti !
- Sandy F.
---
I went many years without seeing a dentist because I was so afraid of going due to past experiences. My husband was the same way when he was younger, but found M. Colletti and has been going for years. So reluctantly I went, and have to say I am so happy I did. Obviously I needed some work done, but Colletti just has a way with people and he always makes me smile. Linda is a great hygentist too, very personable!
- Elizabeth P.
---
I am both an old patient of dr. Colletti and a new patient. I am not an easy patient for any physican having been cursed with 2 orphan diseases. Dr. Colletti is the only dentist who spent his time doing research and speaking with my specialist to create a plan of treatment that was both safe, appropriate and as I have always know him to be kind and reasuring. So glad to hear a second generation is in the offing with the graduation of his son. Thanks for the considerate care from the front office and kudos to Doc, a job well done!
- Elizabeth P.
---
What can i say. Mike has to be one of the best dentist... in the business. His operation is excellent. The Staff is polite and professional. As far as Dr.Colletti he makes sure you get the best results while making you feel comfortable in a situation (Dental) that most tend to not enjoy. Thanks Again Mike.
- Philip D.
---
I like to think that i am proof that one is never too old... or is it to late to dream of having a perfect smile. Dr. Michael Colletti had the vision to make my dream come true.
- Donna C.
---
I think Dr. Colletti is a gentle dentist and a good one at that. He makes sure that his patients are comfortable and tells you what he is doing, which I like. Of all my years with different dentists, Dr. Colletti has been the best. he knows what he needs to do right away with his patients.
- Rita G.
---
Years ago on the eve of a holiday, i had a dental emergency. I was so upset and my regular dentist was out of town and did not have a substitute on call. The closest dentist to my house was Dr. Colletti and at 8:00, I called him and he told me to come right in. He fixed my problem in no time and would not accept my money for helping me. I knew that if I ever changed dentists, I would pick him. I did and I am very glad that I did.
- Muriel L.
---
The best dentist ever. Perfect for chickens... (...er people) like me who are not into pain.
- Chris O.
---
Dr. Colletti and his staff are friendly and always professional. The staff go above and beyond to take care of the patients. They even kept an eye on my daughter when I couldn't find a sitter. It was great that I could keep my appointment!
- Gina M.
---
I am a patient of Dr. Colletti and he does an amazing job! My teeth looked absolutely amazing after he did some major work on my class 3 teeth. Braces, Teeth Cleaning, Fillings, anything for my teeth, I'm There! The place is clean, fancy, and grand. The staffs are always friendly and smiling. I would recommend Dr. Colletti to all my friends.
- Fanny M.
---
I am a new patient with Dr. Coletti and i am thrilled to have him treat me. Like many people, I don't spend as much time on my oral hygiene as I should. Although Dr. Coletti and his staff have pointed out the need for this, they didn't make me feel like a schmuck for it. They were very compassionate. Also, they utilize all the latest cutting edge technology, like laser therapy, and very effective pain minimization!
- Jerry M.
---
Dr. Colletti and his staff have a high level of professionalism... and attention to detail. I learn something new every time I visit, and the visit is virtually pain-free. His calm demeanor and good sense of humor also keep you relaxed at all times. I have been a patient for years, and would recommend Dr. Colletti and his staff to anyone.
- David B.
---
I have finally found a dentist i like. Dr. Colletti and his team really make me feel at ease. Plus, watching TV while being cleaned is a great distraction. I recommend Dr. Colletti to everyone!!
- Janelle G.
---
Let me first start by saying thank you very much! As I arrived for my teeth cleaning, I felt very nervous as if I were going to confession in grammar school. From the moment I came through the doors, I felt immediately relaxed. The office felt like I was at the country club for dinner. Everyone was cordial and professional and most of all, all educated regarding my teeth and gums and told me what was going on in my mouth without being condescending or rude. The BEST dental experience of my life.
- Robert L.
---